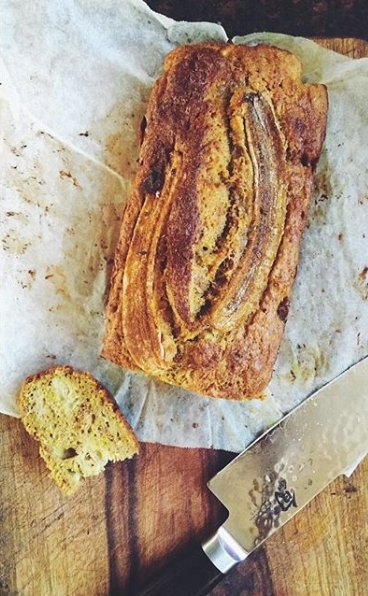 Banana Spelt Gingerbread
This banana bread is so delicious and versatile I just had to share the recipe with you. Banana bread is a great thing to make when you have some leftover food in your fridge that you want to use up before it goes off. You can add things to it to make it different each time
Prep Time: Mins
Cooking Time: Mins
Ingredients
1/2 cup coconut oil

or ghee

1/2 cup honey
2 eggs

at room temperature

3 large ripe bananas

mashed

1 tsp vanilla extract
1 tbsp fresh ginger

finely grated

1 tsp fresh turmeric

finely grated

2 cups sprouted spelt flour

could also use a blend of rye, spelt and almond meal

1 tsp baking soda
1 tsp ground cinnamon
1/2 tsp salt
1/2 cup walnuts coarsley chopped

optional

1/3 cup coconut milk

optional
Instructions
Step 1
Preheat oven to 180 degrees celsius.
Step 2
In a bowl, whisk coconut oil and honey until light and fluffy.
Step 3
Whisk in eggs one at a time.
Step 4
Add in bananas, vanilla extract, ginger and turmeric.
Step 5
In another bowl combine spelt, baking soda, cinnamon, salt and walnuts.
Step 6
Add dry ingredients to the wet mixture and mix until just combined. Add coconut milk if the mixture is too dry or stiff to stir.
Step 7
Pour into a greased and lined loaf tin.
Step 8
Optionally, slice a banana in half, and press into the top of the mixture. Sprinkle coconut sugar and cinnamon on top.
Step 9
Bake for 35 to 40 minutes or until skewer comes out clean.
Step 10
Allow to cool in tin before removing to completely cool on a wire rack.