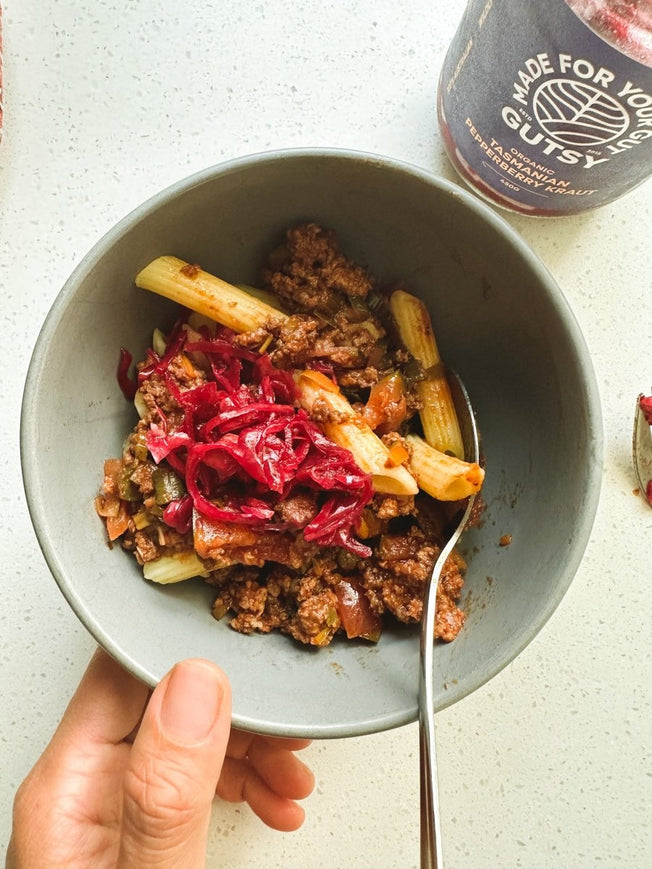 Umami Gut-Loving Bolognese
Bolognese is a staple for many families, but this recipe it is anything but ordinary. This recipe may look lengthy, but is really quite simple and incredibly delicious! It's basically just throwing together mince, veggies, and pasta sauce in one big pot along with the Gutsy umami seasonings. I love to add a whole heap of veggies to bolognese to really stretch out meal, ramp up the fibre content (prebiotics that feed the gut bacteria!) and add flavour.
Prep Time: 15 Mins
Cooking Time: 80 Mins
Ingredients
Sauce
2 garlic cloves, peeled
1 onion, peeled and halved
20g olive oil
400g tomatoes, canned or fresh (diced)
3 tsp oregano, dried
2 tsp basil, dried
2 tsp parsley, dried
1 tsp harissa
salt & pepper to taste
Bolognese
1 stalk leek, rinsed and sliced
500g mince
3 cloves garlic, minced
2 tbsp SEAL Bone Broth Concentrate
1/4 cup tomato paste
1 tbsp miso
500g veggies, chopped coarsley (onions, celery, zucchini, cauliflower, carrots)
2 cups pasta sauce
1/2 - 1 cup of water (optional)
salt & pepper to taste
400g your favourite pasta
choice of sauerkraut for serving
parmesan, grated
Instructions
Pasta Sauce
Step 1
Blitz the onion and garlic in a food processor until finely diced. Drizzle in olive oil and proccess until well combined.
Step 2
Add in tomatoes. Process until coarsely chopped. Add in herbs, salt, and pepper to taste.
Step 3
Cook in a saucepan under medium heat for 30 minutes and aromatic, stirring regularly. If you would like a thicker consistency, continue to simmer for a further 20 minutes.


Bolognese
Step 1
In a large greased fry pan, add in the leeks. Cook under medium heat until caramelised and softened.
Step 2
Add in mince, using a spatula to break up the mince into smaller pieces.
Step 3
Once the mince is almost browned, add in garlic, bone broth concentrate, tomato paste, and miso. Stir until well combined.
Step 4
Add the pasta sauce and some water to loosedn the consistency of the sauce if it's too thick. Allow to come to a boil and hten lower the heat to a gentle simmer.
Step 5
Cook for 30 minutes, stirring occasionally unti the sauce is rich and has a thick consistency.
Step 6
Serve with cooked pasta, a dusting of grated parmesan, and a good spoonful of your choice of kraut. (We think it goes deliciously with Tasmanian Pepperberry Kraut!)