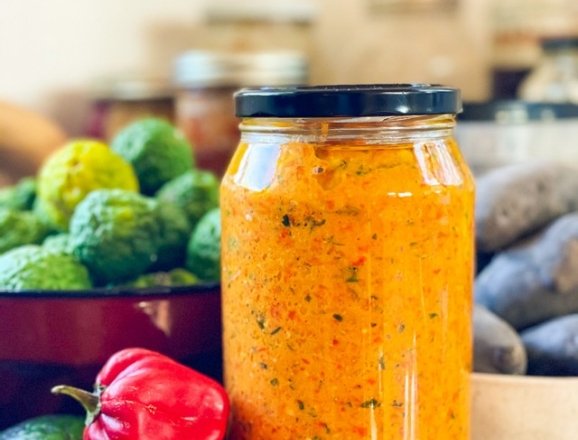 Cultured Red Capsicum Pesto
I get so excited when capsicums are in season because there's so much we can make with these sweet babies. One of my favourite ways to enjoy them is to make cultured capsicum pesto. Not only is this such an easy recipe to make, but there are so many variations that make it easily adaptable and equally delicious!
Prep Time: 15 Mins
Cooking Time: 45 Mins
Ingredients
8 red capsiums halved & deseeded
1/4 cup olive oil
1/4 cup fresh coriander or parsley
1 tbsp smoked garlic kraut or kimchi juice or raw apple cider vinegar
1 handful cashews or almonds roasted
salt and pepper to taste
Instructions
Step 1
Preheat oven at 240°C.
Step 2
Arrange halved capsicums on a baking tray and bake them for 20 minutes or until the skin is blistered and slightly blackened.
Step 3
Remove from oven and cover with a tea towel. Set aside for 20 minutes. This will make removing the skin a whole lot easier. Once the capsicums are cooled, remove the skin while saving as much of the juices as possible.
Step 4
To a blender or food processor, add in capsicum flesh & juices with all the rest of the ingredients except for salt and pepper. Purée until smooth. Season with salt and pepper to taste. To make it a chunky dip, add the nuts after pureeing the dip and blend only for a few seconds.
Step 5
Transfer dip into a jar and allow to sit out for 1/2 a day. Refrigerate when ready and enjoy within 2 weeks.