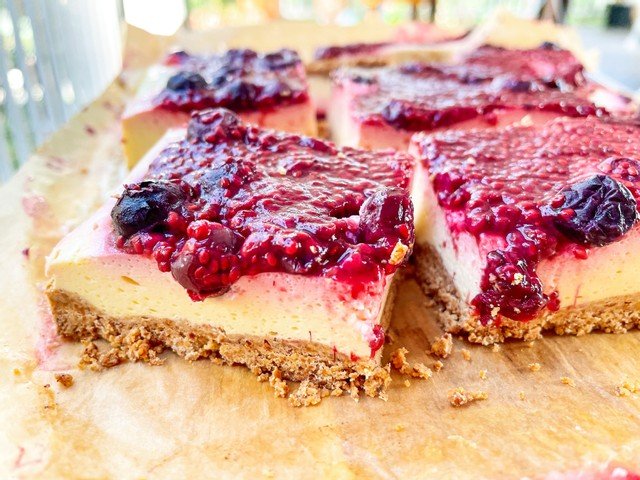 Fizzy Berry & Lemon Crème Slice
Fizzy and tangy, but also a little sweet, this Fizzy Berry and Lemon Crème Slice is a delectable delight! Perfect for any special occasion or just because—this is a recipe that we just had to share with you. To make this slice, start with baking the base first so that the other components of this slice can be made while it is cooling.
Prep Time: 15 Mins
Cooking Time: 45 Mins
Ingredients
Fizzy Berry Topping
1 cup Fizzy Berry Chia Jam
1 tbsp gelatin
2 tbsp water
Lemon Butter
2 cups lemon curd
100-150 g butter softened at room temperature
2 tbsp gelatin
Base
1 cup cassava flour (Recommendation: Three Spades Cassava Flour)
1 cup activated almond flour
1/2 tsp sea salt
150 g ghee
1 tbsp greek or coconut yoghurt
1 tbsp honey
Instructions
Base
Step 1
Preheat the oven to 180C. Grease & line an 11"x 7" brownie tin with parchment paper.
Step 2
Combine all the base ingredients in a food processor and blend until the dough comes together. Add a couple of tablespoons of water if necessary.
Step 3
Bake for 20-25mins or until the surface is golden brown. Set aside to cool on a wire rack.
Lemon Crème
Step 1
Make sure ALL the ingredients are at room temperature
Step 2
Pour the lemon curd into a high-speed blender. Turn the blender on to medium speed and drop 1 tbsp of butter at a time into the curd allowing it a few seconds to emulsify. Keep adding until all the butter is added. Taste and add more butter if you prefer a rich indulgent lemon crème.
Step 3
When all the butter is added, sprinkle gelatin on the surface of the lemon creme and turn the blender speed on high. Blend until gelatin is dissolved and lemon butter is thickened into the most addictive delicious lemon crème.
Step 4
Set aside to cool slightly while making the fizzy berry jam.
Fizzy Berry Jam
Step 1
Allow gelatin to bloom in the water.
Step 2
Warm the berry jam at low heat.
Step 3
Add bloomed gelatin and stir until gelatin is completely dissolved and the jam is thickened.
Step 4
Set aside to cool.