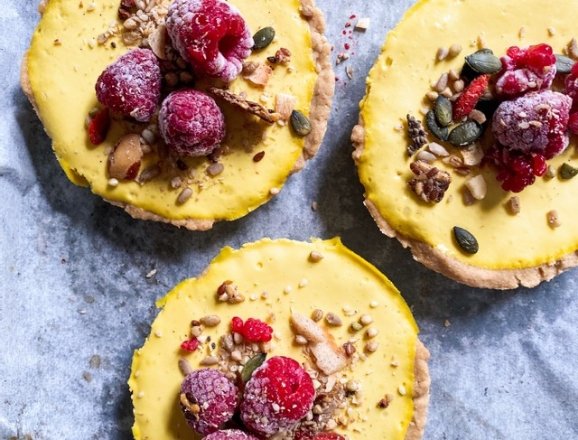 Dreamy Mango Coconut Kefir Tarts
Mango Coconut Kefir Tarts are one of our favourite summer desserts! Summer has never failed me with its blessings of sweet juicy mangoes. But when the initial delight of enjoying mangoes fades, I like to whip up this delightful to tickle the tastebuds. ⁠ To increase the Gutsy microbes in this dessert, I like to ferment the mango purée in coconut kefir at room temperature for 12-24 hours (depending on surrounding temperature) or until bubbly. Just to get a bit of a playful fizz on the tongue. 😋 ⁠ When feeling short on time, you can definitely skip the fermenting stage and get right into making the tarts too! It will still be absolutely delish and nourishing for the gut.
Prep Time: 15 Mins
Cooking Time: 45 Mins
Ingredients
Tart Filling
1 1/2 cups fresh mango purée
1 1/2 cups coconut kefir
1 lime, juice & zest
1 1/2 tbsp grass fed gelatin

(or agar for vegan option)
Cassava Flour Shortbread Crust
2 cups cassava flour

(I recommend the one by Three Spades)

175 g butter or coconut oil, cold & cubed
1/2 tsp sea salt
Instructions
Tart Filling
Step 1
To ferment the mango coconut kefir first, blend up mango purée , coconut kefir, lime juice and zest till smooth. Pour into a jar and lid tightly. Leave to ferment at room temperature for 12-24 hours or until bubbly.
Step 2
When the kefir is ready, dissolve 1 1/2 tbsp gelatin in a small pot with 3 tbsp water. Allow to bloom for 5 mins.
Step 3
Warm on the stove, until all the gelatin granules have dissolved.
Step 4
Once more pour the jar of mango kefir into the blender and add gelatin mixture. Blend till smooth. Set aside and make the crust.
Cassava Shortbread Crust
Step 1
Preheat the oven to 180C. Line a muffin tray with cupcake liners.
Step 2
Combine cassava flour, butter and sea salt together in a medium mixing bowl.
Step 3
Rub the butter into the flour with fingertips until the pastry comes together into a dough. The dough should come together without the addition of liquid. If it's too dry, add a bit more butter.
Step 4
With clean hands, roll walnut size balls and place each ball into each muffin cup.
Step 5
Press the dough evenly into the muffin cup. Poke each crust with a fork a couple of times before putting them into the oven.
Step 6
Bake for 20 minutes or until golden brown. The crust will harden as it cools. Allow to chill for 30 minutes before assembling.
Assembly
Step 1
Carefully pour the mango kefir mousse into each tart. Then transfer to chill in the fridge.
Step 2
To serve, decorate with activated granola & frozen raspberries.