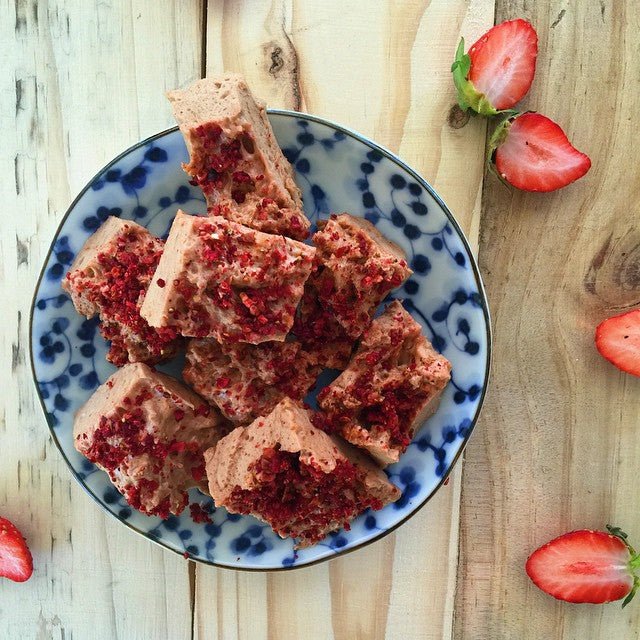 Cacao Marshmallows
A batch of these easy-to-make strawberry coated Cacao Marshmallows makes a very chocolatey hot cacao. Oh yes, and they're amazing in spelt-and-cacao-nib smores too!  Try them and we promise your whole family will love them.
Prep Time: 15 Mins
Cooking Time: 45 Mins
Ingredients
4 tbsp grass fed gelatin
3/4 cup maple syrup
2 tbsp cacao
1 tsp vanilla extract
Instructions
Step 1
In a mixing bowl, pour 1/2 a cup of water in, and sprinkle grass fed gelatin on top. Stir to combine. Then set aside.
Step 2
Add maple syrup into a medium pot and 1/2 a cup of water. Bring to boil and allow to boil for 8 minutes.
Step 3
Place the gelatin mixture into the electric mixer and turn on low, slowly pour in the maple syrup mixture.
Step 4
Once all the maple syrup mixture is added, add in cacao and vanilla extract. Turn on high and allow to mix for 10 to 15 minutes until it becomes the consistency of marshmallow cream. Should form soft peaks.
Step 5
Immediately spoon out into a large, greased pan, and smooth out with a spatula.
Step 6
Allow to set in the fridge for 4 hours.
Step 7
Cut into cubes and place in an air tight container. Can keep for 1 to 2 weeks.
Step8
*Optional: sprinkle crushed strawberries on top before refrigerating.