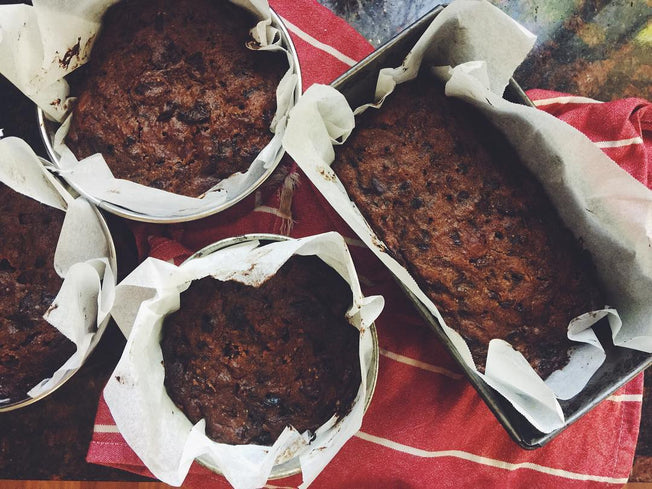 Fermented Chocolate Fruit Cake
If you are looking for a last minute grain free fruit cake recipe for your fermented fruit mix, look no further! This Fermented Chocolate Fruit cake is best kept sliced and chilled. It is perfect served with brandied cream on a hot summer day! 
Prep Time: Mins
Cooking Time: Mins
Ingredients
600 g fermented fruit paste or fruit mince
1 tsp cinnamon
1 tsp vanilla extract
1/4 tsp nutmeg
1/4 tsp allspice
1 organic orange juice and zest
4 tbsp grass fed ghee or butter, melted
3 large free range eggs
2 cups almond meal or hazelnut meal
150 g dark chocolate coarsely chopped
1/2 cup macadamias coarsely chopped
Instructions
Step 1
Preheat the oven to 150C.
Step 2
Grease and line a 20cm baking tin with baking paper.
Step 3
Combine the fruit mince, spices (cinnamon, vanilla, nutmeg, allspice), orange juice & zest, butter and eggs in a medium mixing bowl till well mixed.
Step 4
Stir in almond meal and chocolate.
Step 5
Transfer batter into a baking tin and sprinkle the macadamias on top.
Step 6
Bake for 1 1/2 hours, skewer to test if it is done. Skewer should come out clean, if not, bake for another 20-30mins. Cover the top with baking paper to prevent over browning.
Step 7
Once cooked, remove from the oven and allow to cool.