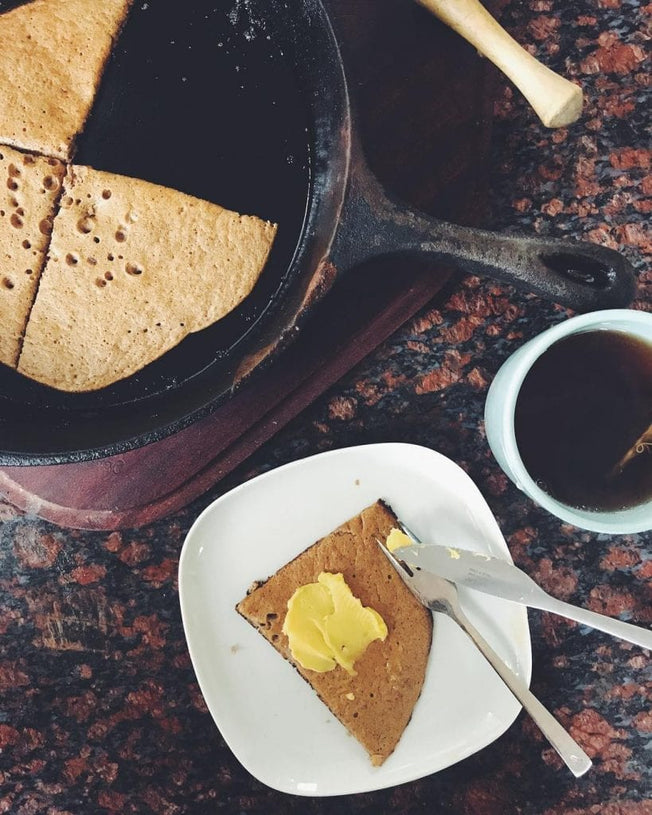 Grain-Free Banana and Walnut Pancakes
My family loves these Grain-Free Banana and Walnut Pancakes so much that I have to make it for breakfast multiple days in a row. They really just can't get enough of them.
Prep Time: Mins
Cooking Time: Mins
Ingredients
1 cup Banana

mashed

1/2 cup Activated Walnuts
4 Large Eggs
1 tbsp Grass Fed Gelatin
1/2 tsp Baking Soda
Pinch Sea Salt
Ghee or Coconut Oil

for frying
Instructions
Step 1
In a food processor, add all the ingredients and process until smooth.
Step 2
To make pikelets, warm a greased fry pan at low-medium heat, then pour in 2 tbsp portions of the batter into the pan per pikelet.
Step 3
Carefully slide a spatula under the pikelet and flip it over when the top firms up a little. (As this recipe doesn't contain any flour, it does take a little while to firm up. Be patient in watching the heat, so that it doesn't burn).
Step 4
Allow the other side to brown, and cook the rest of the batter as above.
Step 5
For large pancakes, pour 1/4 cup portion into a heated and greased cast iron pan. Bake in a preheated oven of 180C for 5-10mins or until it browns and firm to touch.