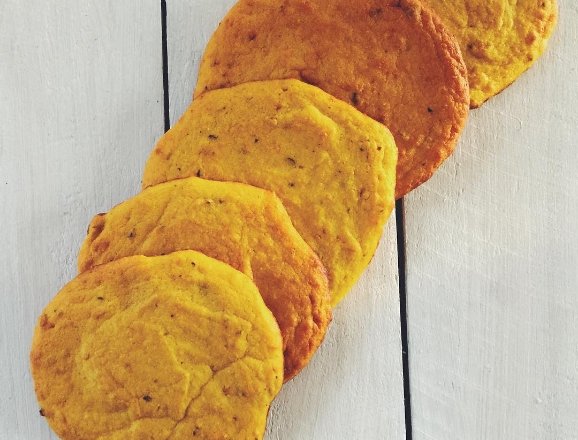 Grain Free Flat Bread
This dairy free, grain free flatbread is a perfect side to any meal. Whether you want to add it to the side of your main meal, or eat it with some eggs for breakfast. Sometimes I like to even use them as a pizza base. You can't really go wrong. 
Prep Time: 15 Mins
Cooking Time: 45 Mins
Ingredients
2 tbsp coconut flour
2 1/2 tsp grass fed gelatin
1/4 cup and 2 tbsp well cooked and mashed pumpkin or sweet potato
2 tbsp ghee or coconut oil
2 eggs
1/4 tsp salt more or less to taste
Instructions
Step 1
Have all ingredients at room temperature.
Step 2
Preheat the oven to 200C and line a baking tray with baking paper.
Step 3
Stir together the coconut flour and gelatin.
Step 4
In another bowl, stir together the pumpkin and the ghee until smooth.
Step 5
Add in the coconut flour/gelatin mixture until well combined. Then add in the egg and sea salt.
Step 6
Spoon into rounds on the baking tray. You can make these thinner or thicker.
Step 7
Bake for about 12 minutes, then carefully peel them off the baking paper and flip. Bake for another 5 minutes until they are dry to the touch and pliable. (They will take longer to cook if they are thicker and they will cook faster if they are thinner.)
Step 8
Let cool completely, then enjoy within an hour or so of baking for the best texture.