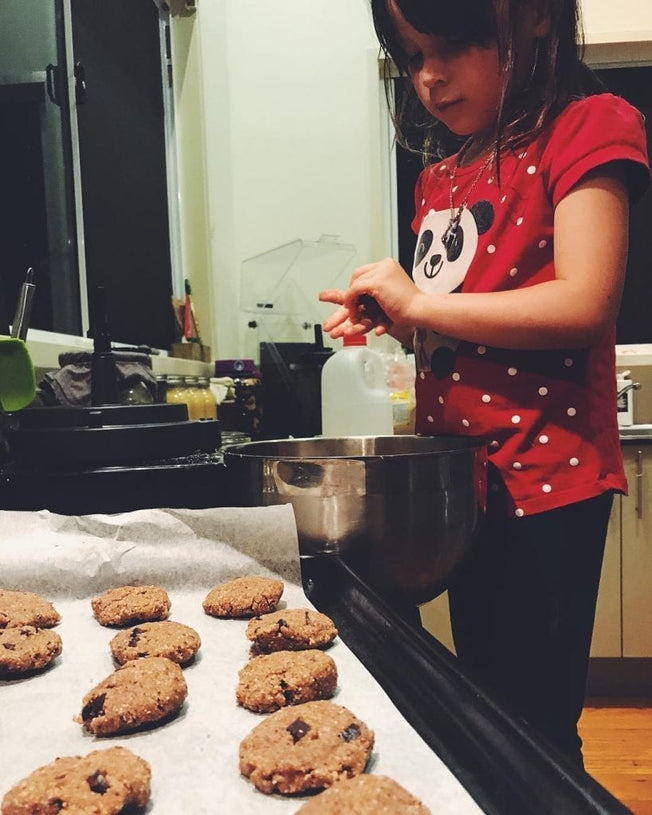 Miso Chocolate Chip Cookies
These Miso Chocolate Chip Cookies are the perfect treat after a long, busy week (or even just a quiet one). They help me to sit down, relax, and enjoy something a bit special.
Prep Time: Mins
Cooking Time: Mins
Ingredients
1/2 cup grass-fed ghee or coconut oil
1/2 tbsp ground chia seeds
3 tbsp milk of choice
2/3 cup coconut sugar
1 tbsp red miso
1 tsp vanilla extract
2 cups almond flour
1/2 cup sprouted brown rice flour

can be replaced with millet

1 tbsp arrowroot flour
1 1/2 tsp baking powder
1/2 cup dark chocolate

coarsely chopped
Instructions
Step 1
Preheat oven to 180C
Step 2
In a food processor, process oil, chia seed, milk, coconut sugar, miso and vanilla until creamy and well combined.
Step 3
Add the rest of the dry ingredients, except for the chocolate, and process until well blended.
Step 4
Fold in the chocolate chunks, and then form into walnut size cookies.
Step 5
Place about 5cm apart on a parchment lined baking tray and flatten gently to spread the cookie out slightly.
Step 6
Bake for 12-15 minutes and then allow to cool for 10 minutes on the tray.