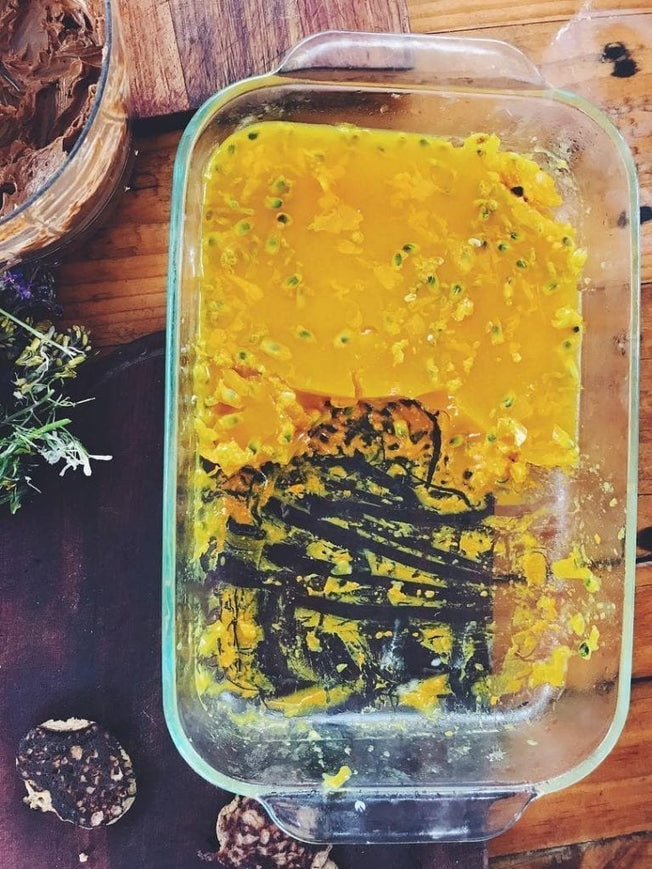 Passion Fruit & Turmeric Gelee
Another easy and tasty way to get the gut to "heal and seal" in Summer. This Passion Fruit & Turmeric Gelee is a great way to use up tangy (over matured) kombucha, water kefir or jun.
Prep Time: Mins
Cooking Time: Mins
Ingredients
2 cups tangy kombucha, water kefir, or jun
1/4 cup fresh passion fruit pulp
2 tbsp cold pressed turmeric juice
1 tbsp grass fed gelatin
1 - 2 tbsp honey or rice malt syrup

(optional, depending on how tangy your probiotic beverage is)
Instructions
Step 1
Combine all the ingredients except for the gelatin in a medium cooking pot.
Step 2
Sprinkle the gelatin on top and set aside for 5 minutes.
Step 3
Place on the stove and warm the gelee up at low heat until the gelatin dissolves and the mixture thins out.
Step 4
Pour into a deep dish pan and allow to set in the fridge for 1 hour before enjoying it.