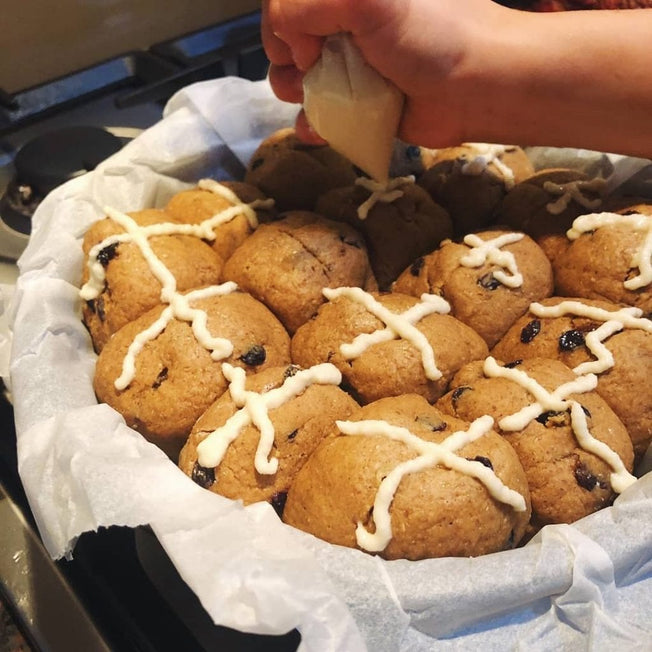 Buckwheat Hot Cross Buns
This Buckwheat Hot Cross Buns recipe has the balance of wholesome nourishment of an ancient grain. And best of all, it bears a close resemblance to its gluten-filled cousin so that everyone in my household agrees, "This is it!"
Prep Time: 15 Mins
Cooking Time: 45 Mins
Ingredients
Leaven
250 g sweetie starter (cookie dough starter)

fed, domed, and ready to go
Dough
100 g buckwheat flour
50 g glutinous rice flour
150 g tapioca starch
30 g psyllium husk
30 g coconut sugar
100 g dried fruit

I like a mix of currants and sultanas

1 g ground cloves
4 g ground cinnamon
3 g ground nutmeg
5 g sea salt
100 g beaten eggs

approximatley 2 medium eggs

100 g orange juice

or any water kefir can be used here too

50 g water

or fizzy apple sauce

20 g olive oil or ghee

if using ghee, make sure it is melted first
Crosses
15 g almond meal
15 g tapioca starch
20 g warm water
Final Glaze (to be brushed on after baking)
Instructions
Feed Starter
The night before or 8-10 hours before (in Brisbane's autumn/ winter), feed Sweetie. Place her in a warm place to ferment in winter. We will be using 250g of the starter for this recipe. Make sure to keep some starter aside for future use.
Making the Dough
Step 1
When Sweetie is doubled, bubbly and domed, combine the buckwheat flour, glutinous rice flour, tapioca starch, psyllium husk, coconut sugar, dried fruits, ground cloves, ground cinnamon, ground nutmeg, and sea salt well in a large mixing bowl.
Step 2
In a small bowl whisk together Sweetie starter, eggs, water, and orange juice.
Step 3
Pour and combine the leaven mixture to the dry ingredients bowl. Mix well with a wooden spoon or spatula. The dough will be quite sticky.
Step 4
Stir in olive oil or ghee and combine well.
Fermentation
Cover the dough with a damp kitchen towel and set aside in a warm place for 4 hours.
Shaping the Buns
Step 1
Dust the work bench and your hands with buckwheat flour. Remove the dough from the bowl and gently knead for a couple of minutes by spreading and folding.
Step 2
To shape buns, roll the dough into a 20cm log. Using a sharp knife, slice the log in half. Slice each halves in half again. And then into quarters. You should yield 16 lumps of dough.
Step 3
Roll each dough into a bun and place it in a parchment lined cake tin or brownie tray (anything that fits all the buns, I find that a 10" cake tin fits all the buns perfectly).
Second Rising
Once completed, cover the buns with a damp kitchen towel and allow to rise for 2 hours. Preheat the oven at 220°C 30 minutes before baking.
Crosses
Step 1
Make paste while buns are proving.
Step 2
In a small cup combine well, almond meal, tapioca starch and warm water.
Step 3
Transfer into a zip lock bag with the corner cut to give a small opening of approx 3 mm.
Step 4
When the buns are risen and ready to bake, use a sharp knife to lightly score a cross on each bun. Pipe a cross onto each bun over the scoring.
To Bake
Lower the temperature to 200C and bake for 30 minutes or until the buns are golden brown.
Final Glaze
Step 1
Prepare the glaze while the buns are baking in the oven.
Step 2
Combine honey and water in a pot and bring to boil over low heat.
Step 3
Remove from heat and generously glaze the buns as soon as they come out of the oven.
Step 4
Cool the buns for 15 minutes on a wire rack before digging in.