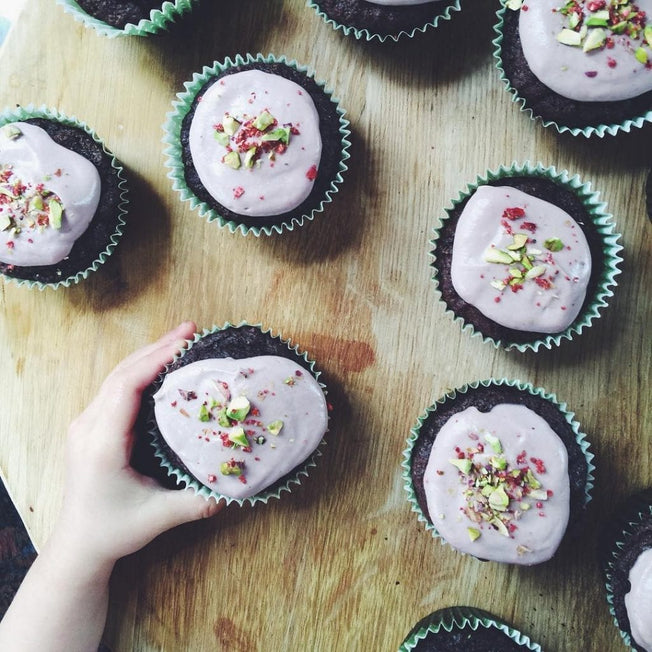 Chocolate Coconut Flour Muffins
When it gets to the end of the week, sometimes all we need is a cupcake. And that is what inspired me to make these Chocolate Coconut Flour Muffins. They make a perfect treat for the whole family any day of the week.
Prep Time: 15 Mins
Cooking Time: 45 Mins
Ingredients
1/2 cup coconut flour
1/2 cup cacao powder
2 tsp baking powder
1 tsp ground cinnamon
1 tsp vanilla extract

or vanilla paste

pinch sea salt
6 large eggs
1/2 cup coconut oil

or olive oil, or ghee

1/2 cup honey

or maple syrup

1/2 cup coconut milk
Instructions
Step 1
Preheat oven to 180 degrees Celsius. Line a muffin tray with cupcake liners.
Step 2
In a bowl whisk together coconut flour, cacao, baking powder, ground cinnamon, vanilla extract, and salt.
Step 3
In another bowl mix eggs, coconut oil, honey and coconut milk.
Step 4
Add the dry mixture to the wet and combine well.
Step 5
Transfer into muffin tray and bake for 15 to 20 minutes, or until the skewer comes out clean.